8 Reasons Why Strip False Eyelashes Trump Eyelash Extensions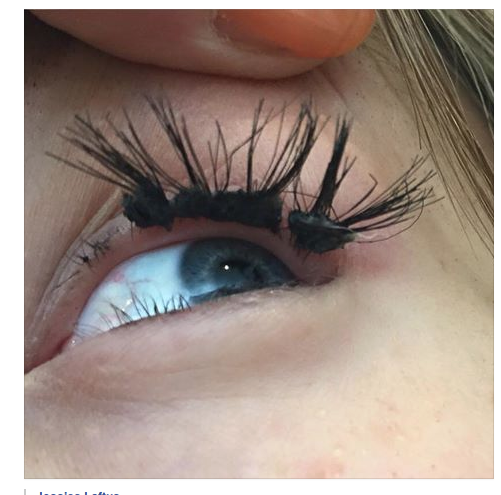 The world of fake eyelashes can be a confusing one. The best eyelashes seem to change with every passing trend and it can be difficult to know which type would be best for you.
As huge fans of fluffy eyelashes, we've created our guide, giving you eight reasons why they're better than eyelash extensions.
From saving time to saving money - strip eyelashes are the better option!
1. Salon Saving Time
Eyelash extensions have to be applied one at a time making it a tedious and time consuming process. In contrast, strip eyelashes are easily applied in one go making them much faster and directly shaving time off your beauty regime.

Here at Dollbaby London, we've now made applying strip lashes even quicker and fuss-free with our NO-GLUE Magnetic Liner & Lashes Kit!  No-Glue, Fuss-Free Lashes in just a few minutes!  As seen in Cosmopolitan, British Bride Magazine and ITV This Morning Show.

If you don't like magnets or glue... we got you boo!  Apply your lashes in minutes with our revolutionary Dollbaby Duo Pen - UK's FIRST Eyeliner & Lash Adhesive.  No Glue No Magnets.  Just line lash and dash!
2. No-one Likes a Wonky Eyelash
Eyelash extensions often mean an expensive trip to the beauty salon for professional application – unless you're highly skilled enough to be able to avoid uneven or wonky lashes. Strip eyelashes only have to be stuck on once so there isn't much room for error.
3. Cut Down Your Internet Search Time
It can be tricky getting hold of eyelash extensions as they're not something you can easily find at your local department store. Strip eyelashes are easily available – saving you time, money and effort!
Here at Dollbaby London we have a wide range of faux mink Vegan friendly lashes (registered by the Vegan Society).
4. Individual Eyelash Extensions are Expensive!
We've already discovered that eyelash extensions are difficult to get hold of, and usually require an expensive trip to the salon for application. That naturally makes them the expensive option. Strip eyelashes are reasonably priced in comparison, and easy to apply at home. Win-win situation, we'd say!
5. Change your fake eyelashes to suit your look
Eyelash extensions can't be changed easily as they're designed to be semi permanent – meaning you have to choose which look you want for the next few weeks! As strip eyelashes are removed at the end of each day, you can have a variety of styles to suit each individual look you want to achieve.

Whether you prefer Light and Wispy eyelashes to finish off a soft makeup look, or for a more dramatic evening glam look, you may decide on some full thick and fluffy eyelashes.
Strip eyelashes also allow you to sleep comfortably each night without worrying about crushing your eyelash extensions while you're sleeping!  

Now even newcomers to eyelashes can apply strip lashes with ease and speed!  With our brand new popular NO-GLUE Magnetic Liner and Lashes Kit.  No glue is required. Just Line-Lash and Dash! 
6. Strip Eyelashes are the Greener Option
Just like eyelash extensions can't be changed easily, they can't be re-used either. Strip eyelashes can be used more than once – up to 30 times dependent on the material and how well they're taken care of. 
7. Protect Your Own Eyelashes
The glue used during eyelash extension application is very strong and can pull out your natural eyelashes when it comes to removing them. No one enjoys the bald look so go for the safer option – strip eyelashes. Not only are they safer to use, in the case of mink eyelashes they're hypoallergenic too.
8. Removing Eyelash Extensions Often Means Return Trips to the Salon
As if one expensive and time consuming visit to the salon wasn't enough, the need for eyelash extension removal with a special gel remover often means a return visit. Strip eyelashes are easy to remove at the end of each night – what could be better than that?
* * * *
We think it's obvious why strip eyelashes are the better option, and we'd love to hear your experiences so feel free to comment below!

Make sure you check out www.dollbabylondon.uk to see our full collection of eyelashes and products, which are certified by the Vegan Society.

Whether you're looking for everyday natural lashes, super fine lashes (for those with no lashes at all), bridal lashes through to sexy, bold and glam lashes.  Guaranteed we have something for you!

We also have a collection of wellness lashes dedicated especially for those with alopecia, trichotillomania and those with sparse lashes or none at all.
Join Us
NEWS & OFFERS: Sign Up Here
INSTAGRAM: @dollbabylondon http://bit.ly/dollinsta
FACEBOOK: www.facebook.com/dollbabylondon  http://bit.ly/dollfacebook
1 comment