Our Story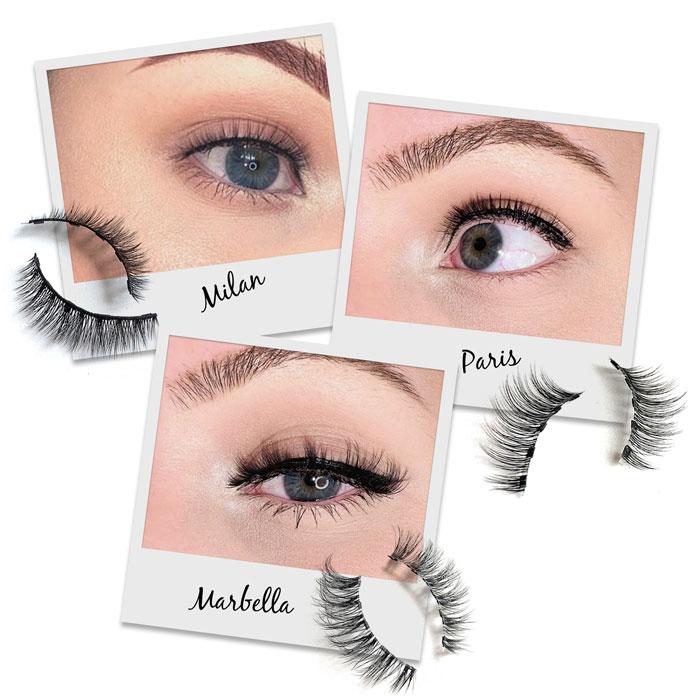 Who Are We?
Hey Dolls!  We're Dollbaby London, a multi award winning eyelash brand and Professional Product Brand of the Year. Our eyelashes and products are worn by A list celebrities and chosen by some of the world's leading makeup artists for red carpet, TV, editorial and stage.  From vivacious and glam Cardi B to natural and demure Poppy Delevingne and Victoria's Secret models. Any look can easily be achieved using our products at home.
We consider ourselves more than just another eye beauty brand. We're eye beauty innovators with 7 awards for innovation, 'Best Vegan', 'Customer Service Excellence' and 'Professional Product Brand of the Year'. We are proud to be trailblazing the industry with products that challenge traditional eyelash application methods. 

Our products are compact, multifunctional, time saving and re-useable to offer fuss-free falsies to everyone regardless of age or experience.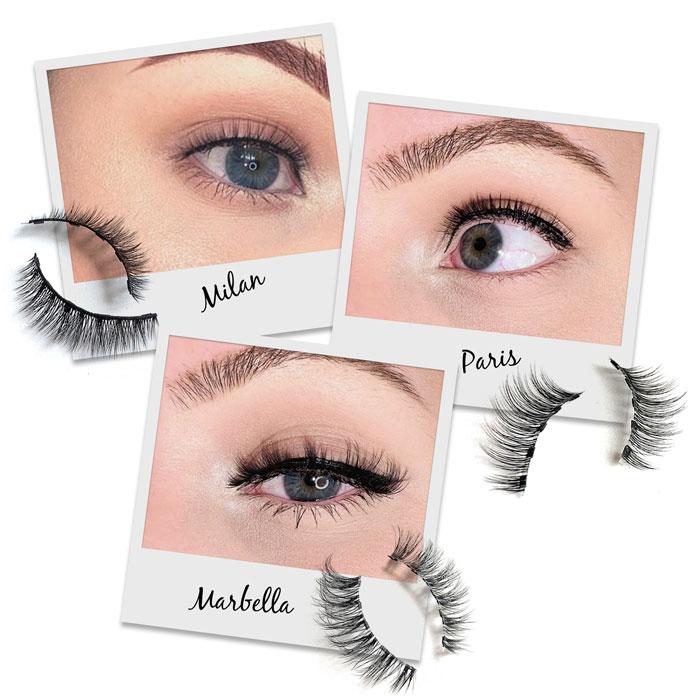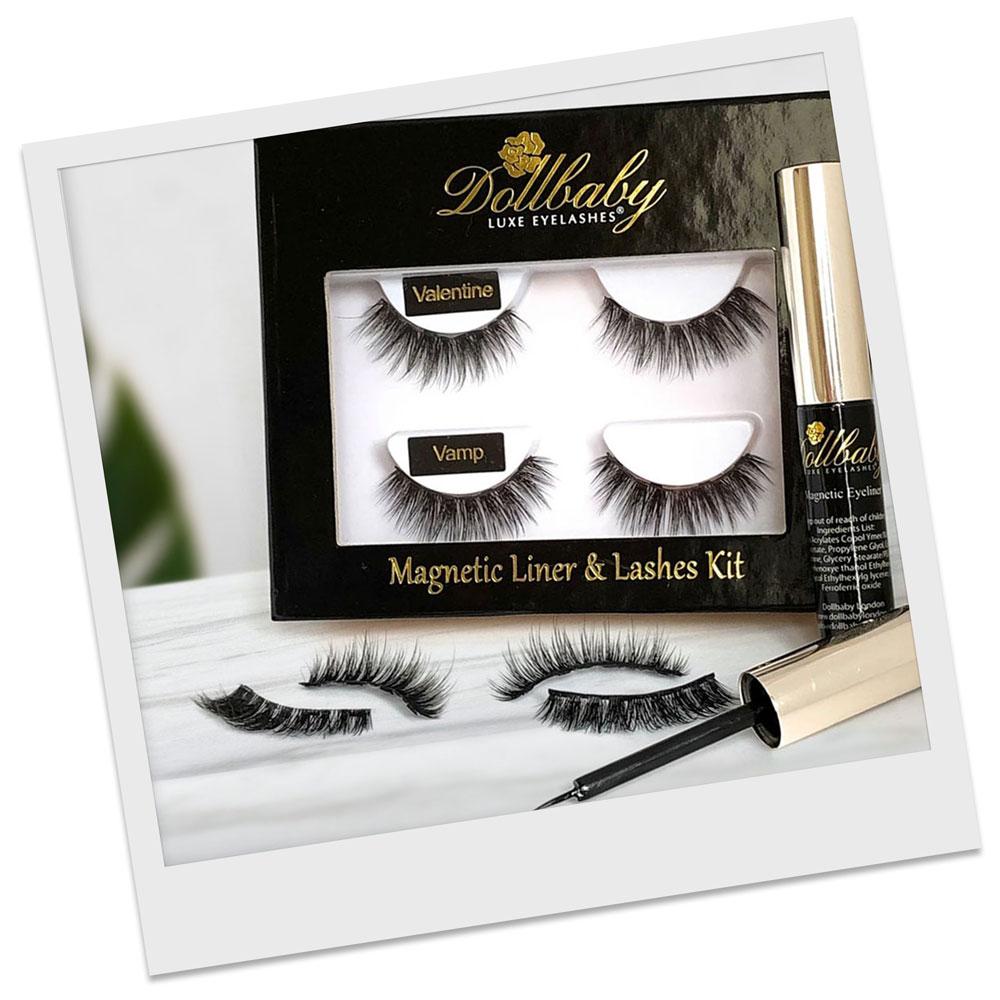 In 2019, we were the first UK brand to curate our revolutionary Magnetic Eyeliner & Lashes Set; 'No Glue Fuss-Free Lashes' specifically designed for those who cannot use eyelash glue. Also, the first brand in the UK to launch the 'Dollbaby Duo Pen' the world's first no magnets no glue 2-in-1 Eyeliner and Eyelash Adhesive. 
We're all busy, on the go with limited time (and patience!)  Which is why we create our products with ease and speed in mind. You don't need to be a beauty guru to use our products, just a few minutes and a desire to look gorgeous! After all, it's hard enough deciding on what to wear without having to worry about your eyelashes. Right?
DollbabyLondon's Magnetic Eyeliner and Lashes kit have featured on ITV's This Morning, selling out at the This Morning Live Show as well as Glamour, British Brides, Cosmopolitan and Celebrity Secrets (Ok!) Magazine.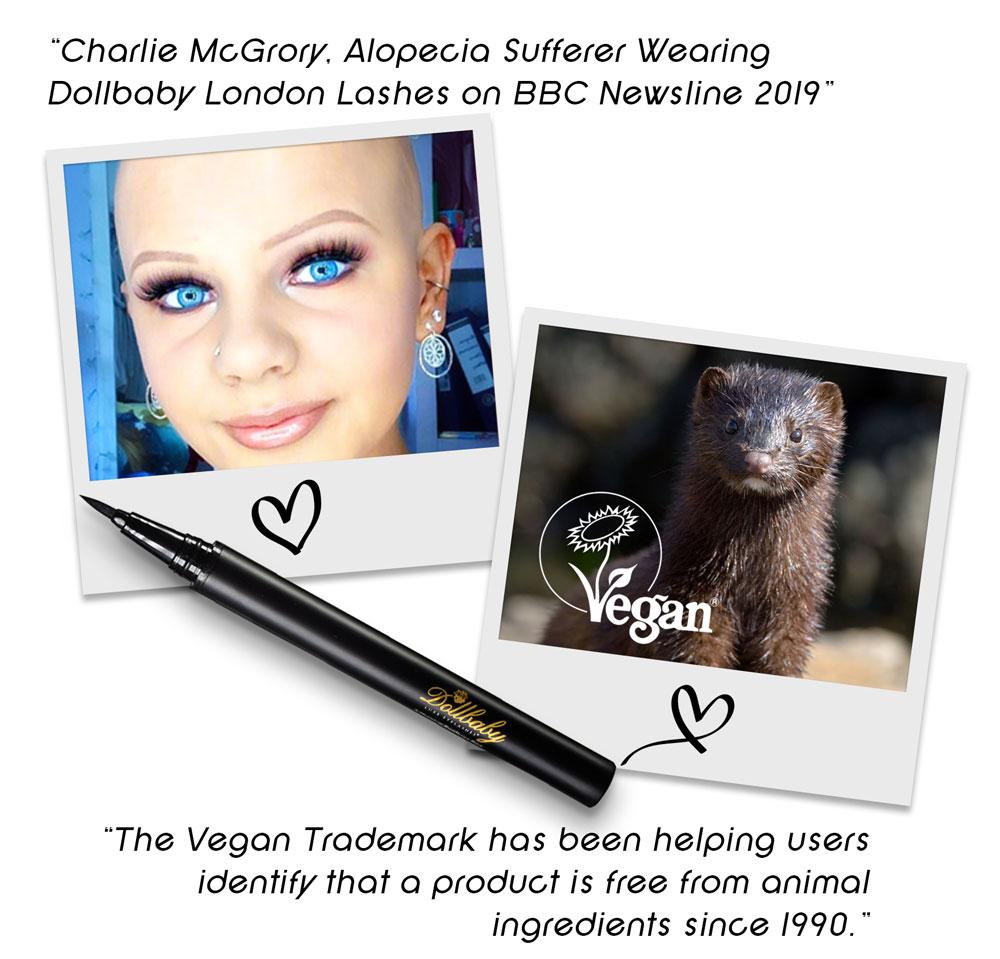 Our Values
We pride ourselves on being an eco-friendly brand and are proud to be one of the only eyelash brands in the industry certified by The Vegan Society. We are leading the eye beauty industry, by insisting that our products and ingredients are vetted by a globally recognised organisation. This enables us to offer our Vegan customers peace of mind by displaying the Vegan Society trademark logo.
We take social responsibility seriously and are very proud to be the brand chosen by many cancer patients, alopecia and trichotillomania sufferers who want very natural looking re-useable, long lasting lashes whilst being quick and easy to apply.  Our lightweight natural lashes were created for those with hair loss in mind.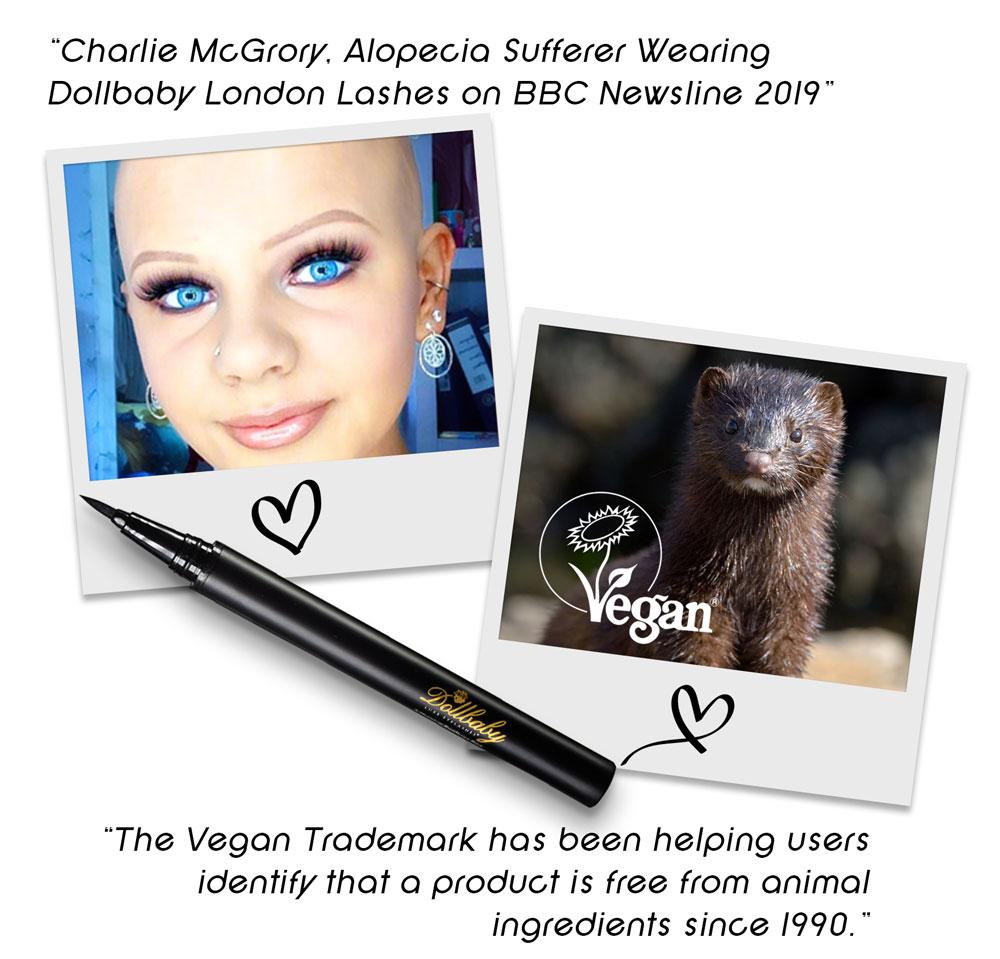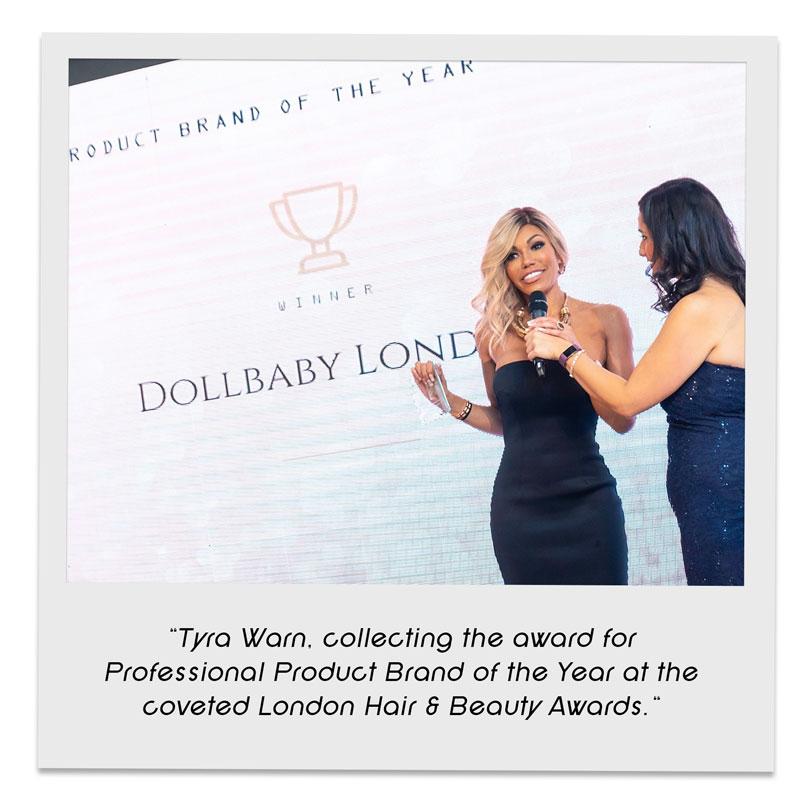 Our Founder Tyra Warn – How We Started
My mothers pet name for me since childhood has always been 'Miss Glamour Puss,' as I've always played with makeup since two years old. As soon as I could walk, you'd find me playing dress-up and skating around the house in my mums high heels! I lived for Saturday nights out getting dolled up with friends trying different makeup looks every week before hitting London town. I was no stranger to false eyelashes and bigger was always better!
My only consistent bugbear when it came to my makeup were my false lashes. There've always been slim pickings on the high street. Lashes were pricey and always looked like plastic. The quality was poor, fiddly to apply and you needed industrial scissors to even open the packet! Then, after all that, in the morning, they'd go in the bin. My friends and I would always moan about high street lashes, but Kardashian style eyelashes were too much of a splurge. We needed change and fast! I set out to bridge this vast gap by creating the Rolls-Royce line of faux mink eyelashes that would be accessible to EVERYONE not just the rich and famous!  

Re-useable, resilient, high quality and luxurious from very natural to super glam to suit all tastes and budgets.  That's when Dollbaby London was born and we said "bye-bye" to basic lashes forever!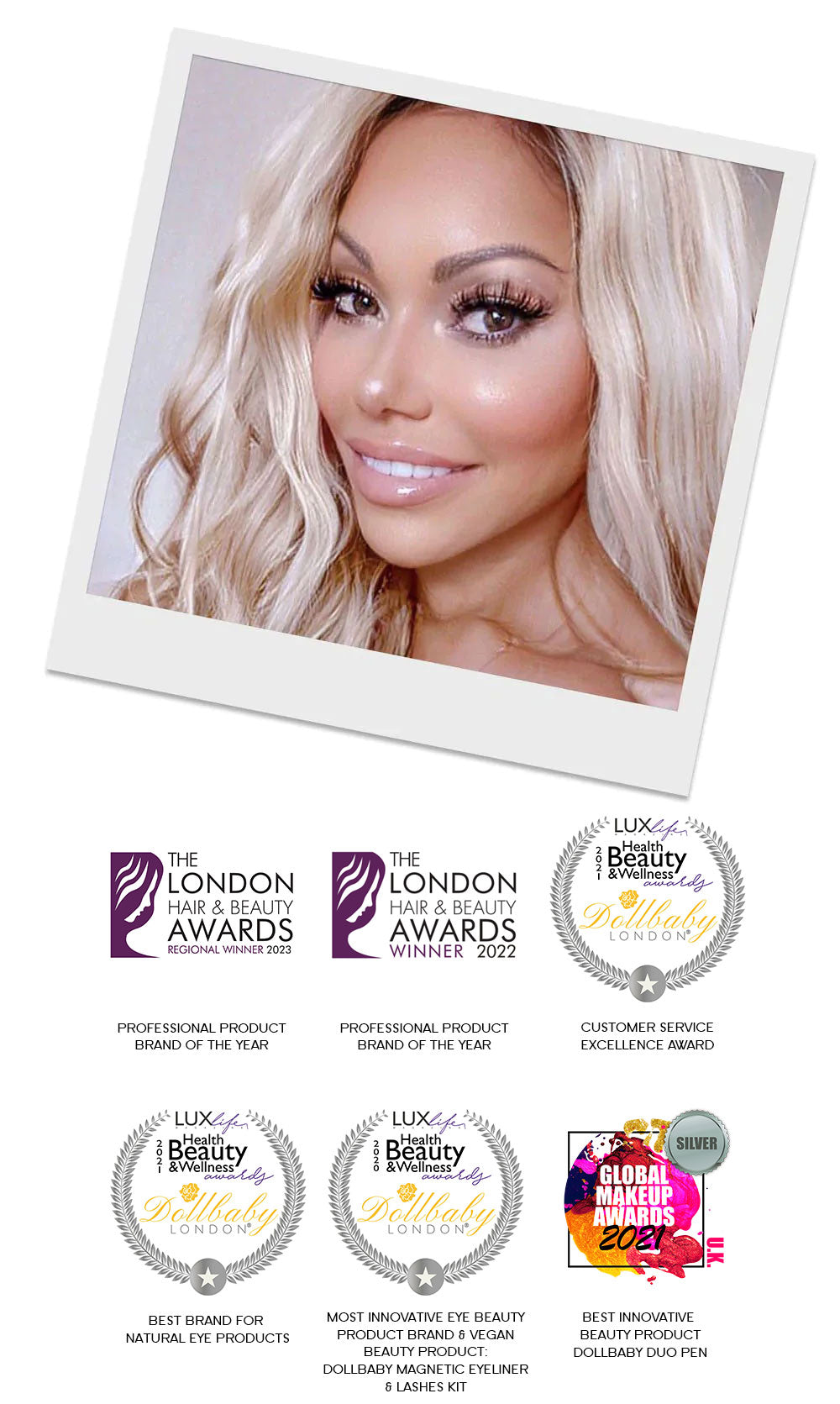 OUR AWARDS

'Professional Product Brand Of The Year' - London Hair & Beauty Awards 2023 & 2022

'Customer Excellence Award'
'Best Natural Eye Products UK' -
Lux Life Magazine Health, Beauty & Wellness Awards 2021

'Best Innovative Eye Beauty Product - Dollbaby Duo Adhesive Eyeliner Pen' - Global Makeup Awards 2021
'Gold Winners - Best Vegan Eye Products' - Global Green Beauty Awards 2020

'Most Innovative Eye Beauty Brand UK'
'Most Innovative Vegan Beauty Product': Dollbaby London Magnetic Eyeliner & Lashes Kit' -
Lux Life Magazine Health, Beauty & Wellness Awards 2020

'Professional Product Brand Of The Year' - London Hair & Beauty Awards 2019
Join Us: Follow us on Instagram to keep updated!
Join us on our adventure to continue trailblazing the beauty industry! 
Follow us on our socials here