Christmas Party Perfection – Our Top Tips To Make Sure You Sleigh This Season!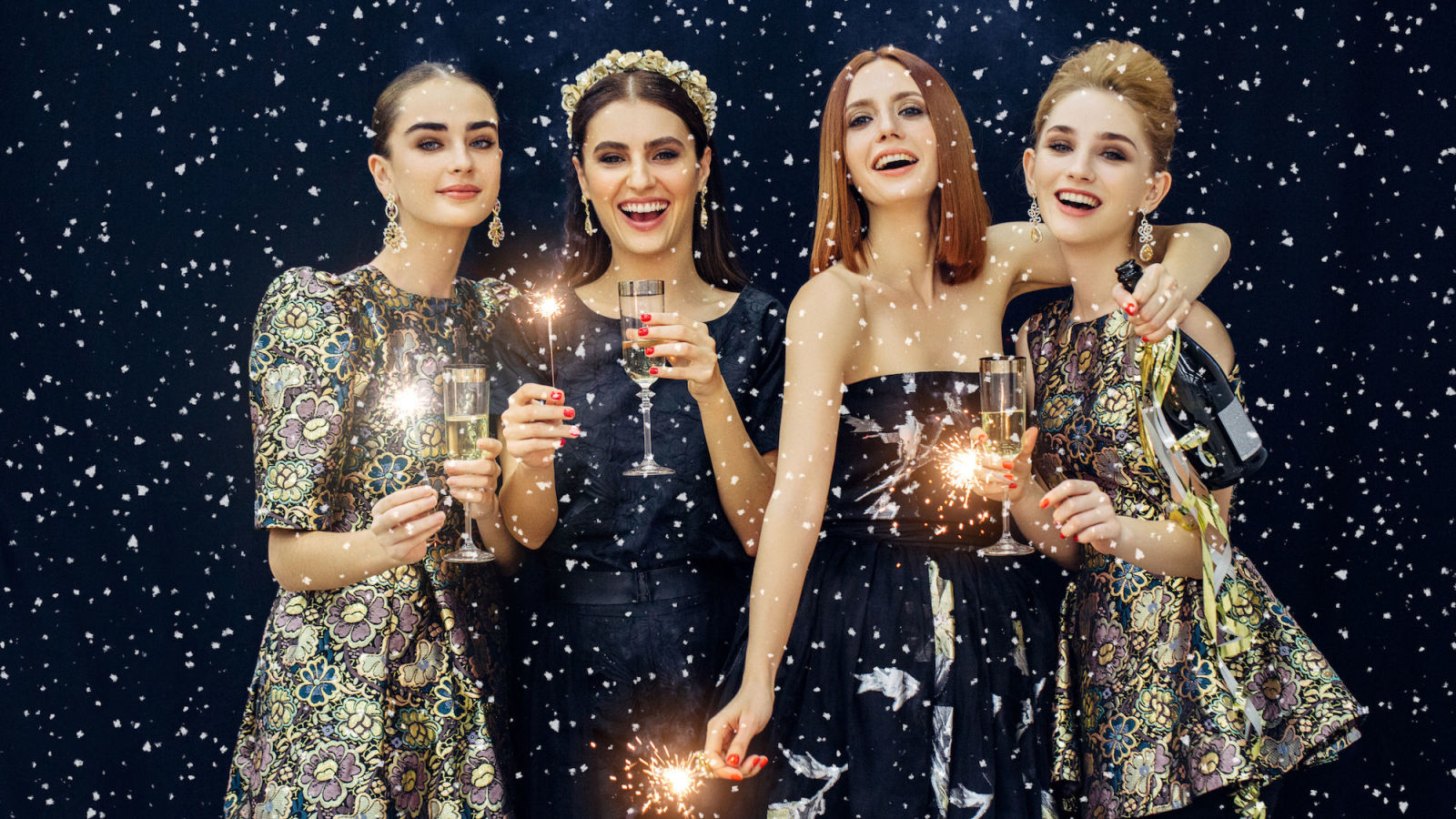 We love this time of year. Snow, sparkles and parties. Not just any parties, but Christmas Parties and the ultimate New Years Eve party!  The time of year where everyone goes a little wild, drinks and eats to excess and busts their moves on the dance floor.
If you want to be the buzz of office gossip for the right reasons – and we're talking looking amazingly beautiful, of course; you should follow our perfect party tips.
Party Perfection Starts With The Preparation

We're talking getting ready the week before the party, not just the hours before. Trust us though, it's well worth the extra effort.
Smoothing out your skin with a good exfoliator is crucial, and we suggest using exfoliator gloves in the shower to really work the scrub in. Use a lighter scrub for your face. We suggest once the week before, and then again two nights before the party for perfectly glowing skin.
It's also good to up your general skin care game if you aren't already. Make sure you remove all your makeup (and your false eyelashes!) before bed and moisturise, moisturise, moisturise!  Our skin dries out more in winter and needs more hydration.  Especially as we are exposed to so much indoor artificial heating.
Planning Your Outfit Ahead Of Time is Essential For Keeping on Top of Your Pre-Party Prep!
 Ok, we know, choosing the right dress on the night itself is a nightmare, let alone the days before!
At least narrow it down to colour. Then you can get your toenails painted in a complementary shade 1 – 2 days before the big night to allow good time to dry.  (Those killer heels are a nightmare for smudging nail polish!)
You'll also need to make sure you've got your appointment with the nail technician set in stone ahead of the party – busiest time of the year and no, they won't have any cancellations available.
Now's the time to be booking in for a fake tan too – (the pale and gothic look ended after Halloween!)  A light airbrushed tan is all that's needed to keep you looking bronzed and beautiful in whatever dress you (finally!) choose to wear.
Take care of yourself the days before the party – fatigue and hangovers aren't going to be helpful right now!
We mean early nights, drinking lots of water and incorporating a decent amount of fruit and vegetables in your diet. You want to keep your energy levels high, so you can dance the night away after all!
Try and grab a few hours sleep before you get ready if you've been at work, stressed or generally feeling low.
Ok, it's time to pour a Prosecco, put on some tunes, dance while getting ready and put your face on!
Christmas is a Great Time For Being Adventurous With Your Makeup – But Don't Forget the False Eyelashes!
Focus on making one area of your makeup stand out, rather than going overboard with everything and looking like a clown!
We think the eyes are simply perfect for this.
Not only can you try a new style of eyeshadow and eyeliner, you can liven up any makeup look by adding false eyelashes. Instantly, you add drama making you look and feel sexy which in turn will make you oooze confidence!  
Falsies will work with any makeup look – smoky and dramatic, to naturally seductive. If you've never tried them before this can be the perfect time to add something extra for that added pizazz.
If you've got any burning questions you've always wanted to ask about false eyelashes but been too afraid to, you need to check out our blog here: Everything You've Ever Wanted to Know About False Eyelashes
Of course, if you are trying something new with your makeup, don't leave it to the last minute. Try experimenting in the days up to the party until you've got it down.
Try adding a shimmery body lotion around your collarbone and arms for an extra touch of schu'zz!
Accessorise With Bold Costume Jewellery and Elaborate Earrings
Accessories really do complete a look so have fun choosing bold jewellery and a clutch that will compliment your dress and makeup well.
Don't be shy now!  This is the time of year to go all out!
______________________________________________________________
Feel free to add any tips of your own to the comments section below.  Until then, knock 'em dead and most importantly, have fun girl!
Join Us
NEWS & OFFERS: Sign Up Here
INSTAGRAM: @dollbabylondon http://bit.ly/dollinsta
FACEBOOK: www.facebook.com/dollbabylondon  http://bit.ly/dollfacebook